We present our favorites, carefully curated and fully sustainable. Perfect for sporty mountain lovers as well as wellness and spa fans. Always with stunning mountain view and and crackling in the fireplace.
Paradiso Pure.Living
The first completely vegetarian hotel in the Dolomites awaits you on the Alpe di Siusi, part of the Dolomites UNESCO World Heritage. Contemporary art is tastefully integrated into the traditional hotel. Comfort meets innovation, natural materials are combined with modern elements.
The view of the peaks is breathtaking and surprises with a new play of colors at any time of the day. In the restaurant you will explore creative dishes, prepared from regional ingredients that show what modern vegetarian cuisine has to offer.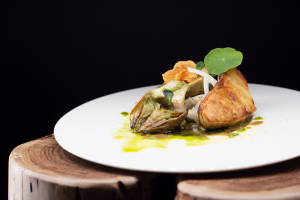 Walliserhof
The famous Lünersee is just one of the highlights that awaits you in Vorarlberg's Brandnertal. With a view of the summits of the Rätikon Mountains, the Hotel Walliserhof is the perfect location for a break to reconnect with nature.
The committed hosts have created a refuge that adapts to the guest's pace. Whether active and sporty or relaxed – the Walliserhof offers you exactly what you need. The hotel surprises with its bold design and attention to detail, and makes you instantly feel at home.
Summit Lodges
Enjoy the privacy of your own lodge – secluded yet perfectly located: in the Tyrolean Oberland, near the border triangle Austria-Italy-Switzerland and with a view of the surrounding mountain landscape.
The lodge offers around 120 square meters of space for up to six people. Ideal for time with family and friends, with your own sauna for relaxation and with 300km of slopes and hiking trails right around the corner. Tyrolean cosiness in the mountains – what more could you want?
Picture credits: Paradiso Pure.Living / Walliserhof / Summit Lodges